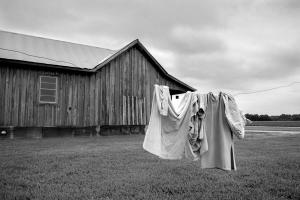 PRESS RELEASE
FOR IMMEDIATE USE
DATE: April 30, 2016

WILSON PHOTOGRAPHS ACCEPTED FOR MISSOURI EXHIBITION

Two photographs from New Albany, Mississippi fine art photographer and Tallahatchie Arts Council member T. Lowry Wilson have been accepted for exhibition at the George A. Spiva Center for the Arts in Joplin, Missouri during the month of May 2016. The exhibition is part of the Four States Photography Enthusiasts (FSPE) and features artists from the states of Missouri, Kansas, Oklahoma and Arkansas as well as members of FSPE from other states, including Mississippi. This is the first time FSPE has sponsored the exhibition and there are plans to make it an annual event.

Wilson submitted photographs to the juror panel and the two that were accepted are part of his Mississippi Delta series entitled "Dissonant Harmony." The images chosen feature typical Delta scenes and are printed in B&W using a special carbon pigment...